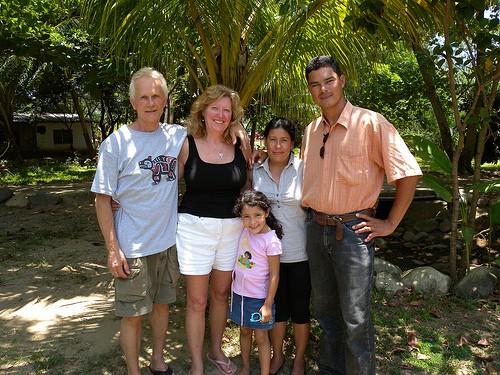 Hello and welcome to Tranquility Bay
A Family-Run Boutique Retreat
We're Larry and Linda from Vancouver, British Columbia. We've been the operators of this little Caribbean eco-beach retreat since 2008. Its very special to us. After years of travelling ourselves, our goal now is to provide an experience for our guests that we also would want and expect.
The success of our resort comes from the trust, confidence and service that our guests experience and write about.
We have come to love the Trujillo area and its people and know that you as well will come away with a warm spot in your heart for Honduras and Tranquility Bay
At Tranquility Bay we enjoy the simple life style and the freedom that comes with this Caribbean beach living and meeting such interesting people from so many parts of the world.  We enjoy making sure our guests have the tranquility holiday that they have been searching for.
Larry and Linda with some of our "Tranquility Bay family", Carlos,Luisa and Emily
You will usually find us around the resort caring for the animals, helping with the preparing of meals, talking with our guests, teaching water sports and activities… or often Stand-up Paddle Boarding down the shoreline of aqua blue Caribbean laced with white sandy beaches.
We do strive to take time and talk with all of our guests to ensure they are having the best possible experience in our wonderful little piece of Tranquility.